If you don't know what to do with your money and are pained by indecision, let's talk.
Everybody ought to have a comfortable retirement, and most people want more choices and freedom in life.
Many people want to get rich too, or at least be comfortable. The good news is that you can become a millionaire investing just $500-$1,000 a month, and a multi-millionaire investing $1,000-$2,500 a month.
The bad news is that most people fail at investing.  Even some highly knowledgable investors fail, due to human nature.
Like a doctor who can't stop smoking or overeating, many knowledgable people can't resist the urge to speculate, get greedy and/or feel fearful when markets are crashing.
I can help set up accounts that are:
Easy and speedy. Like you, I am frustrated by bureaucracy and time-wasting. Time is money.  I am busy and I am sure you are too. My aim is to save you time and money by doing things online as quickly and effortlessly as possible.
Give you access to some of the biggest fund houses in the world –  including BlackRock, iShares and others.
Adjusted to your risk tolerance:  the four portfolios below are examples of past portfolios I have constructed, to adjust for clients risk-appetite: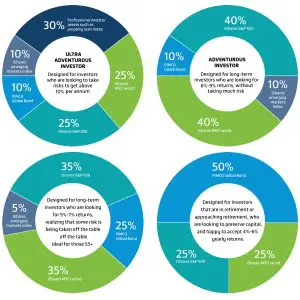 Have reasonable account minimums: of $100,000 for lump sums. For those without a lump sum, the minimums are  $750 a month ($9,000 a year) for long-term global retirement accounts. Those minimums rose on February and March, 2020, for the reasons outlined here.
Based on the 80:20 principle – 80% in core assets. 20% in assets that you can't get access to directly (for example private equity).
Are low cost: 1% yearly management fees.  0.75% on accounts above $500,000, and 0.5% on accounts above $1m.
Globally available: for everybody except people living in Americans (American expats are OK) and a few other countries.  Accounts are particularly useful for expats who are moving from country to country, and locals living in emerging market countries, where there is not a stable currency and system in place.
In your company name if applicable – accounts can be in your name or your company name.  If you own a company investing through your firm can be tax efficient.
For kids education – your kids can be the primary beneficiary
The accounts aren't for everybody.  They aren't for people who prefer to speculate and engage in get rich quick schemes, even though the current low stock market valuations are a great opportunity to buy low.
Client recommendations and media exposure
Below is a small selection of the 20 recommendations taken from my LinkedIn :
Below is a client interview: why did he pick me?
I have been featured in numerous publications including;